Welcome to the Library : Our Theme for Spring 1 is,
"Grimm's fairy Tales."
Our library is a vibrant and welcoming place to come and read or share a story with a friend.
We have consulted the children about the books that they would like to see on the shelves and with the new flexible layout, furniture and books the children choose to spend some of their own time in the library.
Mrs Ridge is the teacher with responsibility for the library. She is supported by a hardworking team of Year 6 Junior Librarians who have been trained in library skills by Wigan library services.
Mrs Marshall is our library support teaching assistant who provides valuable support creating some display and a regular library topic based quiz
Your librarians for this year are:
Monday:
Tuesday:
Wednesday: Amelia and
Thursday: Amelia and
Friday: Thomas and Holly
Your Year 6 librarians are there to help you with book choices, take out books, return books and find out information for your homework or a project.
Book Reviews
Book Competition
Reader of the Week
They are not there to tidy up after you if you use the library please tidy up after yourself. Thank you.
Children are always Getting Caught Reading.
Year 6 children have recently appeared on the world famous Blue Peter television show as part of this
year's World Book Day celebrations. Subsequently, the Wigan Observer newspaper visited and filmed
these children in our library as a result of our appearance on the show.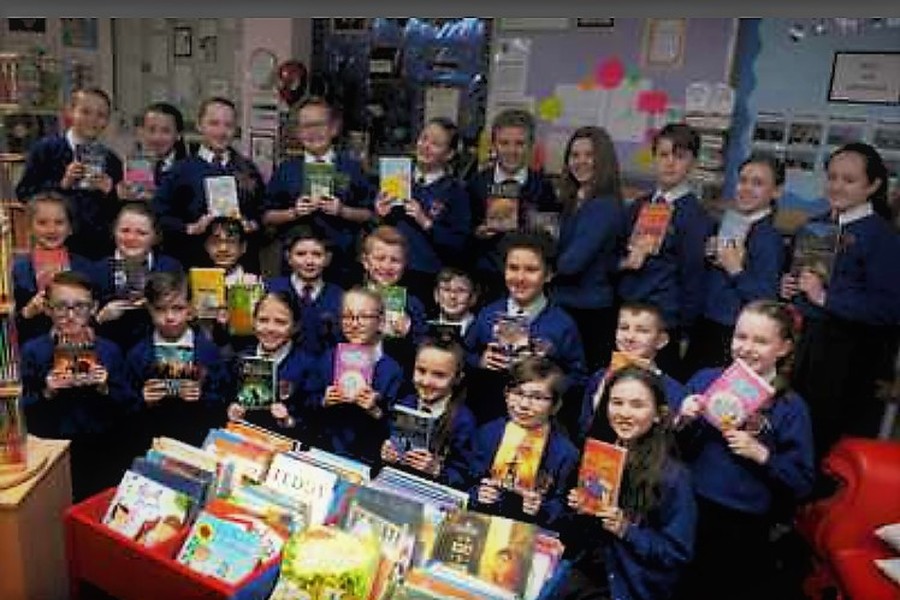 An Amazing Journey Through Imaginary Worlds
Year 3 have been reading The Secret Garden by Francis Hodgson Burnett as part of Guided Reading.
This has inspired children to produce
some amazing examples of creative writing. Read these amazing stories by selecting the link below.