Congratulations on your retirement Mr Worthington, we will miss you!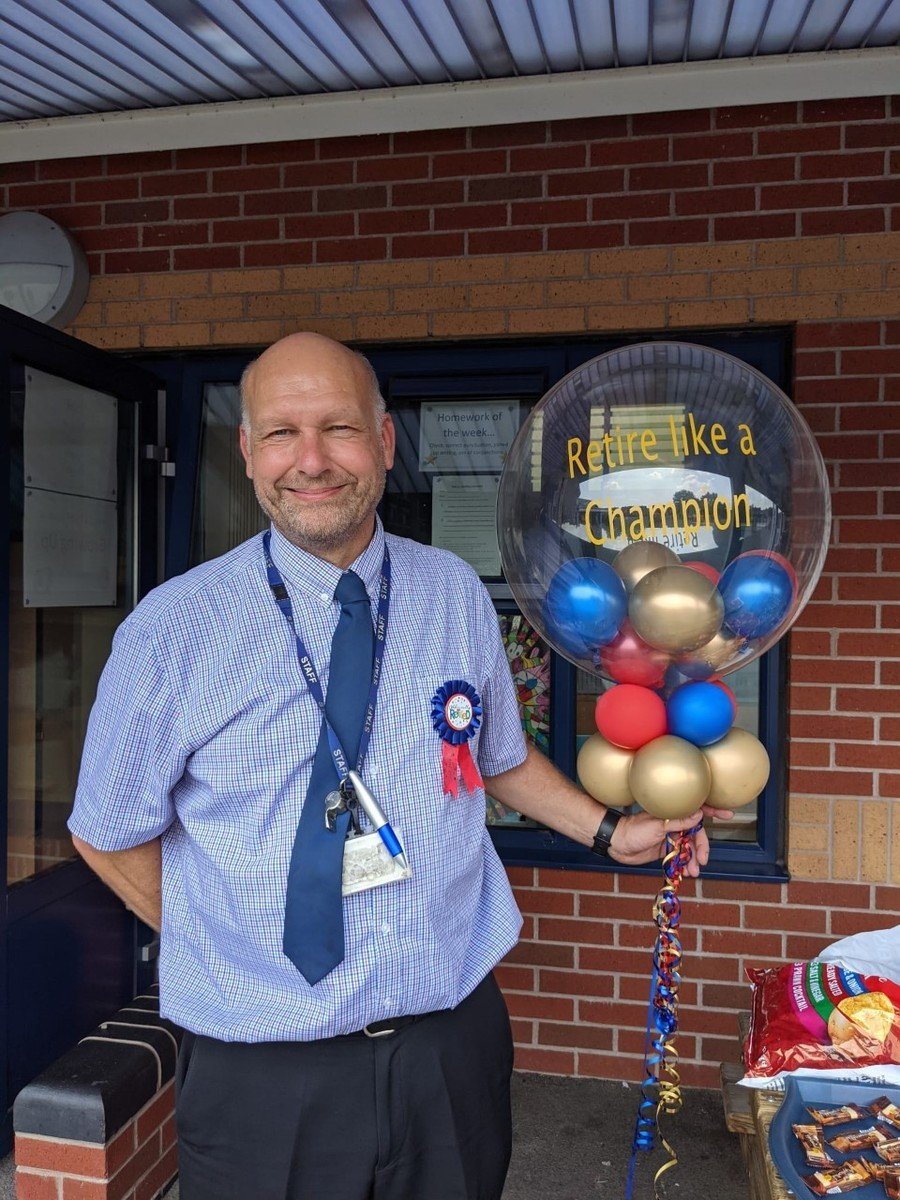 A farewell video from all the staff to Mr Worthington
WELCOME
I'm David Worthington, Headteacher at Worsley Mesnes Community Primary School and I would like to welcome you.

The ethos of our school is our "Worsley Mesnes Way". This interweaves our school values - respect, excellence, inspiration, determination, equality, friendship and courage with high expectations of behaviour at all times within a climate of trust across the whole school community. This is apparent as soon as you enter our school and is the foundation of our school motto
"We Learn Like Champions".
We recognise the importance of the role of our school in the community; in creating a partnership between children, parents, staff and the local residents. This was recognised nationally by the award of the Inclusion Quality Mark in June 2017.
Our website and our prospectus will give you some factual information about our school. We believe that Worsley Mesnes Community Primary School is a special place where learning is memorable and basic skills are weaved through experiences and challenges inside and outside of the classroom.
I hope that you find the site both interesting and informative and that it gives you a true flavour of our school whether you are a child, a parent, a member of staff, a governor or indeed, a visitor.
We – the staff, children and governors – are proud of our school community and all that we achieve! If you have not visited, but would like to come and see us 'at work', please do not hesitate to make an appointment;
I would love to show you around our school.
Our vision for Worsley Mesnes Community Primary School
A school where:
Children understand that our school values of Respect, Friendship, Inspiration, Equality, Courage, Excellence, and Determination combined with our Worsley Mesnes Way are for school and life. They will have ambition and be prepared for the next steps in their journey.

Everyone will have experiences that enhance their learning so that they achieve more than they thought possible.

All of our school community matter and are included in a welcoming, happy and safe environment.

We aim to develop caring, considerate and tolerant children with a sense of pride and personal responsibility.

We are all committed to developing enquiring and curious minds with a lifetime love of learning with a growth mindset, willingness to tackle any challenge and ownership of their learning.

Communication is strong and outstanding relationships with parents/carers are developed.
Latest Worsley Mesnes Events
There are currently no events.
Calendars page(s): Worsley Mesnes >>
Visit our school Noticeboard page by clicking here
Download the Worsley Mesnes Community Primary School APP for free - Visit your APP store and search for school jotter and then install the APP for free. A message may appear which asks you to either enable or disable push notifications. We would recommend that you ENABLE push notifications so that when generic alerts are sent, you will receive a ping, to alert you to a new message.
Paper copies of any information on our website can be provided on request at the school office - free of charge.